Sale!
Cover gray hair naturally!
Easy step-by-step instructions with videos and a pdf for coloring your hair with henna. Henna is safe, natural, and affective. Coloring your hair at home with henna is an easy way to save 1,000s of dollars. The best benefit is the beautiful results.
Description
Cover gray hair naturally!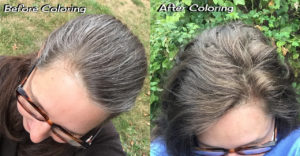 Save lots of money and avoid dangerous chemicals, learn how to color your hair with henna. This is a step-by-step program with videos and a pdf of exactly how to color your hair by yourself. By using the herbs henna and indigo we are able to create a range of colors from reds to brown/black. It is so easy, 3 ingredients. This method will save you 1,000s of dollars over the years. For less than $20 you will be able to color your hair for an entire year, compared to the beautician's cost of $50-100 for one treatment. This is less than 10 time the cost! Henna is also very safe. The problems that people have with it are often due to the additional ingredients/chemicals. The ingredients in my recipe are edible, not toxic. Save yourself loads of money and toxic chemical exposure by trying my henna protocol.
Full Time: 6 hours. This is a Saturday project. But you can go about your everyday activity while you wait for the color to absorb. Like waiting for the laundry to finish, you are not actively making the color absorb. You are just waiting for it in the comfort of your own home.