For Sale Locally: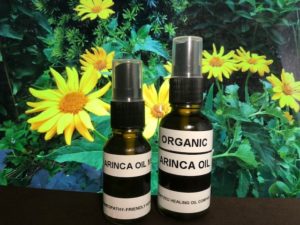 Potentized Organic Arnica oil
This organic arnica oil is different in that it is processed in a way that opens up the cell walls for the best natural extraction possible without harsh chemicals or reductionistic processing.
Ingredients: Potentized Organic Arnica Montana oil with Organic olive oil, organic cane alcohol
Price: 1oz for $15/bottle, 2 oz for $20/bottle, 4oz for $25/bottle, 8 or more oz for $5/oz
Indications: Pain relief; Anti-inflammatory; Arnica has been used for centuries for closed trauma such as bruises, broken bones, swelling, sprains, and strains. Also used for soreness without injury as in inflamed joints, achy muscles, and back pain.
How it works: Arnica dilates capillaries to increase blood flow to the injury. This action increases healing by moving out waste products and bring in fresh nutrients. It decreases swelling and removes stagnant blood.
Contraindications: Arnica is for external use only! It shouldn't be used on open wounds or taken internally without the supervision of an herbalist. Anyone can be allergic to anything at anytime. If you are allergic to other members of the daisy family, proceed with care. Discontinue if your skin is irritated by the oil.
Homeopathy-Friendly Arnica Musculoskeletal Plus
There are many pepperations of arnica in the health food stores, most of which contain mint, tea tree and/or eucalyptus. Homeopathy is antidoted with these smells. When you need arnica montana homeopathy for trauma or pain, you can use Homeopathy-Friendly Musculoskeletal Plus locally at the same time. An amazing natural healing protocol for musculoskeletal injuries is a triple approach; oral (internal) arnica montana homeopathy, local (external) musculoskeletal essential oils, and potentized organic arnica oil.
Ingredients: Potentized Organic Arnica Montana oil, potent proprietary blend of Young Living essential oils for spasms, circulation, pain, inflammation, and healing (45 drops in each 15ml bottle)
Price: $20/15ml spray bottle
Contraindications: Same as potentized arnica oil. See above. For external use only! Test on small area of skin first before using on large area.
Which one is for you? If you possess a large essential oil apothecary, have much education on the subject, and have the ability to create a homeopathic-friendly mix for musculoskeletal problems, than just get the arnica oil to create your own. If you don't, just buy the premixed Homeopathy-Friendly Arnica Musculoskeletal Plus.
Interested?
If you want more information and you are local, use the contact form or call me. I currently am only making the oils for local people. I have not worked out shipping yet. If you are interested, I can put you on a list for non-local people.
These statements and products have not been evaluated by the FDA. They are not intended to diagnose, treat, cure, or prevent any disease or condition. If you have a health concern or condition, consult a physician. I am not a doctor. I am also not personally taking your case. I give you this information for informational purposes only and is not intended as a substitute for advice from your physician.